Sacred & Grounded Byron Bay Wedding
Lucy and Simon were keen to create a rich intentional and inclusive ceremony that spoke to their spiritual souls, without alienating their guests, many of whom don't necessarily share in their depth.
In our early planning stages, they sent me a video of a Hawaiian priest conducting a very reverent wedding ceremony and asked if I could help them create a similar vibe at Byron Surf Club, which we definitely did.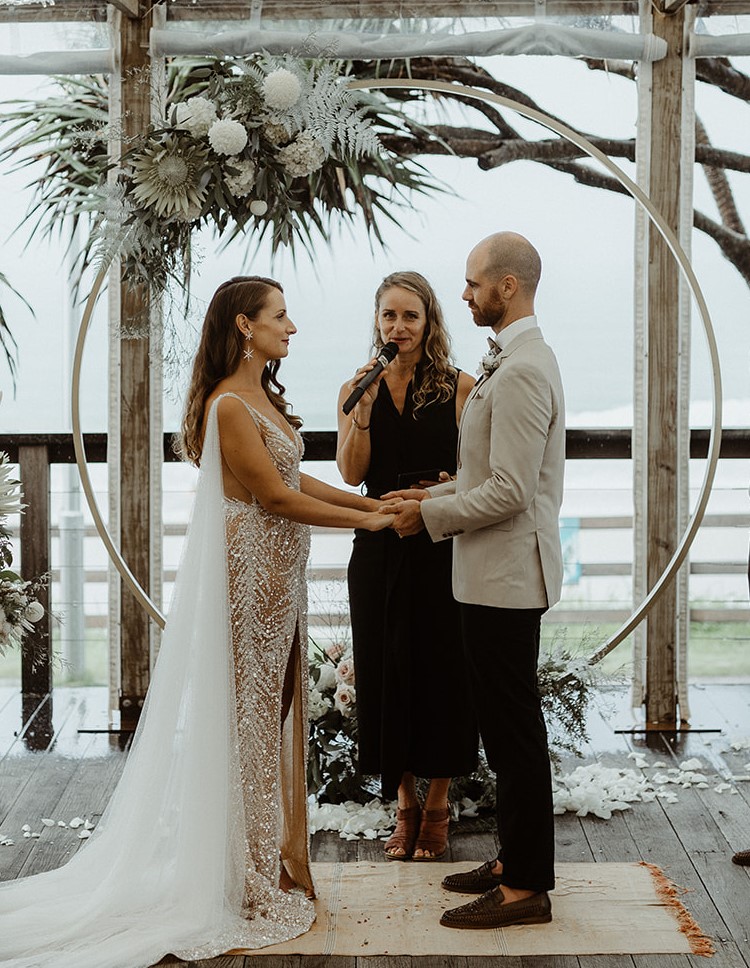 The ceremony began prior to Lucy's entrance with some live ethereal music by a world renound artist http://www.elijahraymusic.com/ who uses his gift of voice and sound to create exquisite transcendent, uplifting sounds. He basically set the tone for the ceremony to come, playing while Lucy entered.
It is their belief that the essence of everything is about opening the heart… and by fully opening their hearts to one another on this day… and every day… they are coming home to the essence of who they really are.
They believe that Marriage is an ancient and sacred rite of passage and a mystical union of the masculine and feminine coming together .. knowing that they are whole within themselves .. but choosing to unite and be bonded in body, spirit and heart.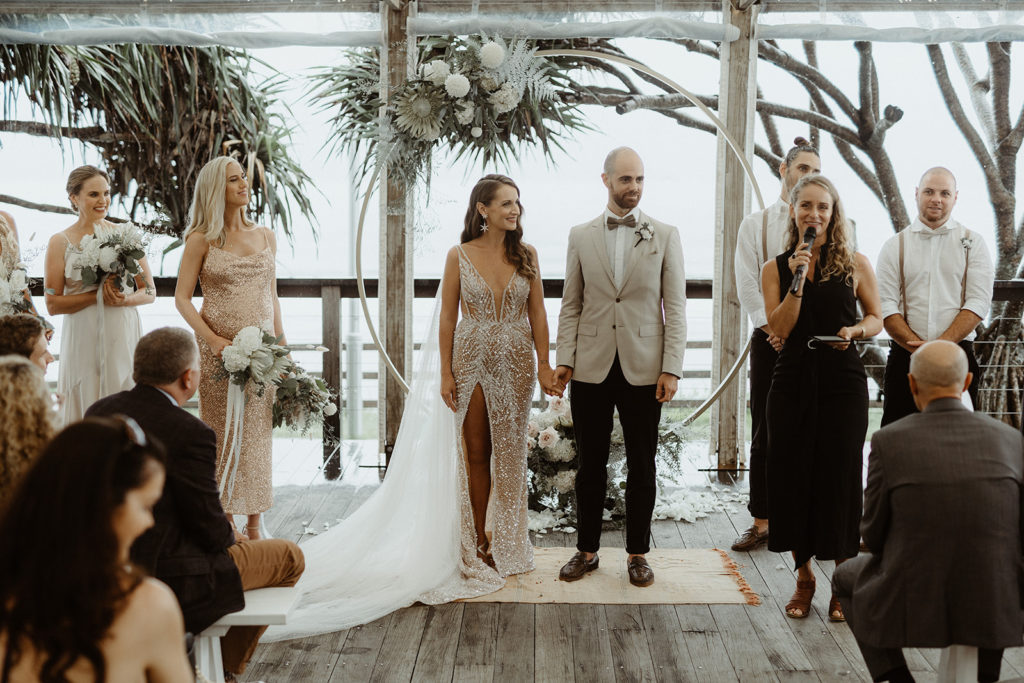 After setting the scene with these beautiful beliefs, we then shared a very hearty honest and humorous version of their love story which always helps to engage all the guests present.
We conducted a Water Purification Ritual, as a symbolic purification of their hearts where they firstly washed their own hands and then they washed each others hands. Simple, a little messy but very special.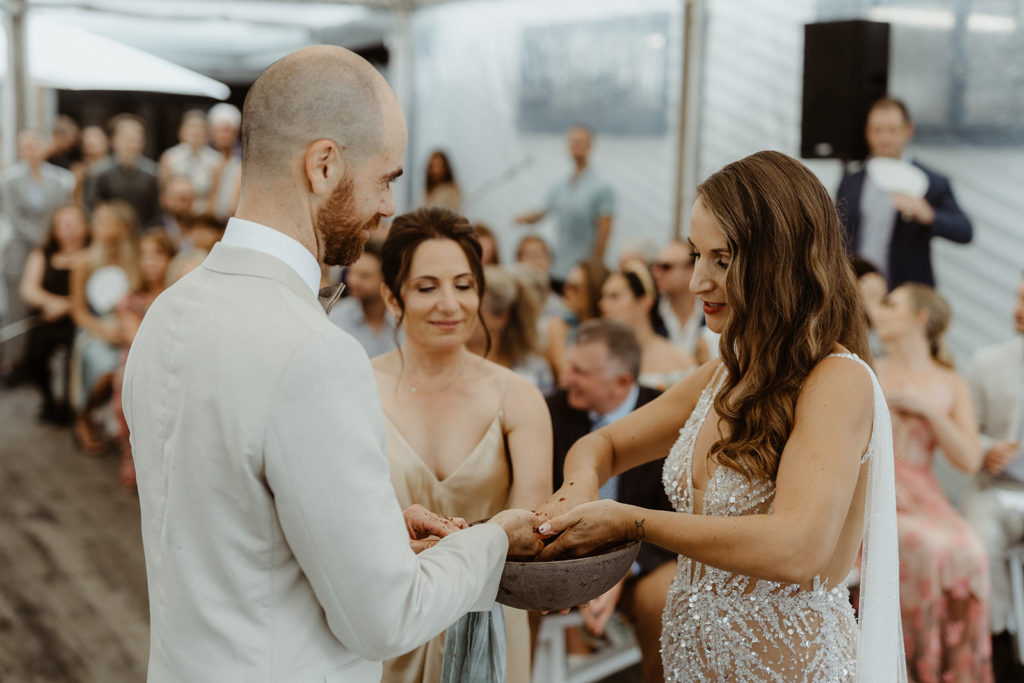 Then we set their sacred space before their Vows with these words (which I modified from the Hawiian Priest's ceremony)
"One heart, one hope, one light, one truth, one life, one joy flowing together growing together now from a single source. Feel the unification between you.. of your hearts.. your vision…your intentions. Take a deep breath and look into each others souls.. your time for passage is here. You stand on the threshold of a new beginning. So get ready to deepen into your love and commitment to one another, to express in ritual what has already blossomed in your hearts."
Their Vows were long but so divine, and then we engaged back with thei family and friends for their commitments to support the marriage in a Community Vow. After signing we ended with a Champagne toast before they strutted ever so happily down the Isle.
It was the most wonderful combination of a deep reverent ceremony that was fun and spiritual, completely aligned with Simon and Lucy's beliefs, and was gorgeously glamorous all at the same time.
Others involved in this wonderful day:
Van MIddleton Photography https://www.vanmiddleton.com/
Videography – Story of us: http://www.storyofus.com.au/wedding/
Florals – Bower Botanicals: http://www.bowerbotanicals.com.au/
Furniture and Styling – Wedding Shed : http://www.theweddingshed.com.au/
Coordination and Catering: https://www.byronbayweddings.com.au/
Hair and Makeup: http://www.anitabauer.com.au/ Alex Osten Beauty
Brides INCREDIBLE dress: http://pallascouture.com/